Throw Your Super Glue Away And Fix Virtually Anything
Think it's unrepairable? Think again. Bondic is a liquid plastic welder that allows you to build, fix or fill anything in seconds.
Re-attach broken eyeglasses, refill holes in leaky plumbing, and rebuild just about anything — even fine china! Just apply the unique liquid formula to the damaged area, shine the special UV light on it for only 4 seconds, and the liquid freezes into a rock-solid layer of clear plastic on your command!
TODAY…
Buy 2, Get 1 FREE
You Save $19.99!
Buy 3, Get 2 FREE
You Save $39.98!
Over 1,500 ⭐⭐⭐⭐⭐ Reviews!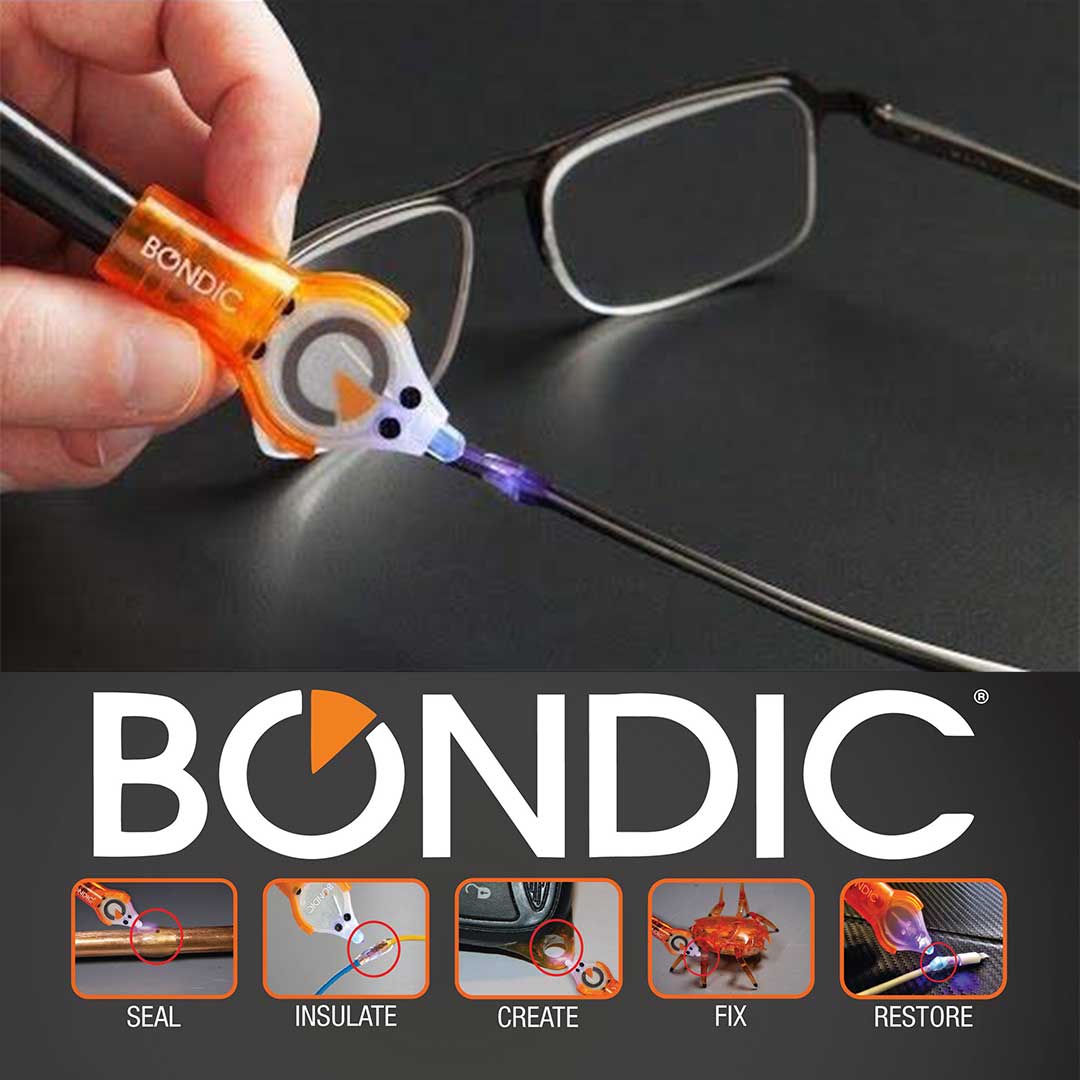 Stuff Breaks. Fix Anything With Bondic!
Incredible Adhesive – Extremely strong!  This liquid plastic formula is designed to last forever, ensuring you get a long-lasting hold.
Won't Dry Out – Bondic is not glue and the no solvent liquid formula only hardens when UV light is applied. This prevents the hassle of removing hardened glue and means there is no chance of it drying up in the container. Keep using it for years!
Works On Any Surface – bond, build, fix and fill almost anything! Use Bondic on plastic, wood, metal, PVC, steel, rubber, wiring, ceramic, figurines, vinyl, Kevlar, polypropylene, leather and so much more to fix ends of phone chargers, children's broken toys, jewelry, glasses, or your favorite pair of heels. Dries clear and can be sanded or painted after it hardens to customize any project.
Quick & Easy To Use – The incorporated LED UV light has an easy press button, when the liquid is exposed to the UV light it cures in seconds to form a permanent bond. Our simple 4-step process (clean, fill, cure and shape) has helped thousands fix almost anything, saving countless precious items from ending up in the trash.
Safe For Everyone & No Messes – Bondic is 100 percent waterproof, heat-resistant, and non toxic. Bondic only cures when exposed to UV light, so you decide when (and where) the results end up. Use it around the house, no problem!
Complete Starter Kit – Includes everything you need to start fixing: handheld applicator, LED UV light, and two 4 gram tubes of liquid adhesive all held in a handy metal case.