Back Pain Relief in 15 Minutes or Less
BetterBack allows you to effortlessly sit in perfect posture, easing back pain — and helping prevent it. Lightweight and portable, it makes every chair ergonomic. Wearing it for just 15 minutes a day can retrain your body's default posture, so when you stand or sit without BetterBack, your posture is greatly improved.
TODAY…
Get an extra 50% OFF
each additional BetterBack when you buy more than one!
92% of reviewers gave BetterBack "⭐⭐⭐⭐⭐"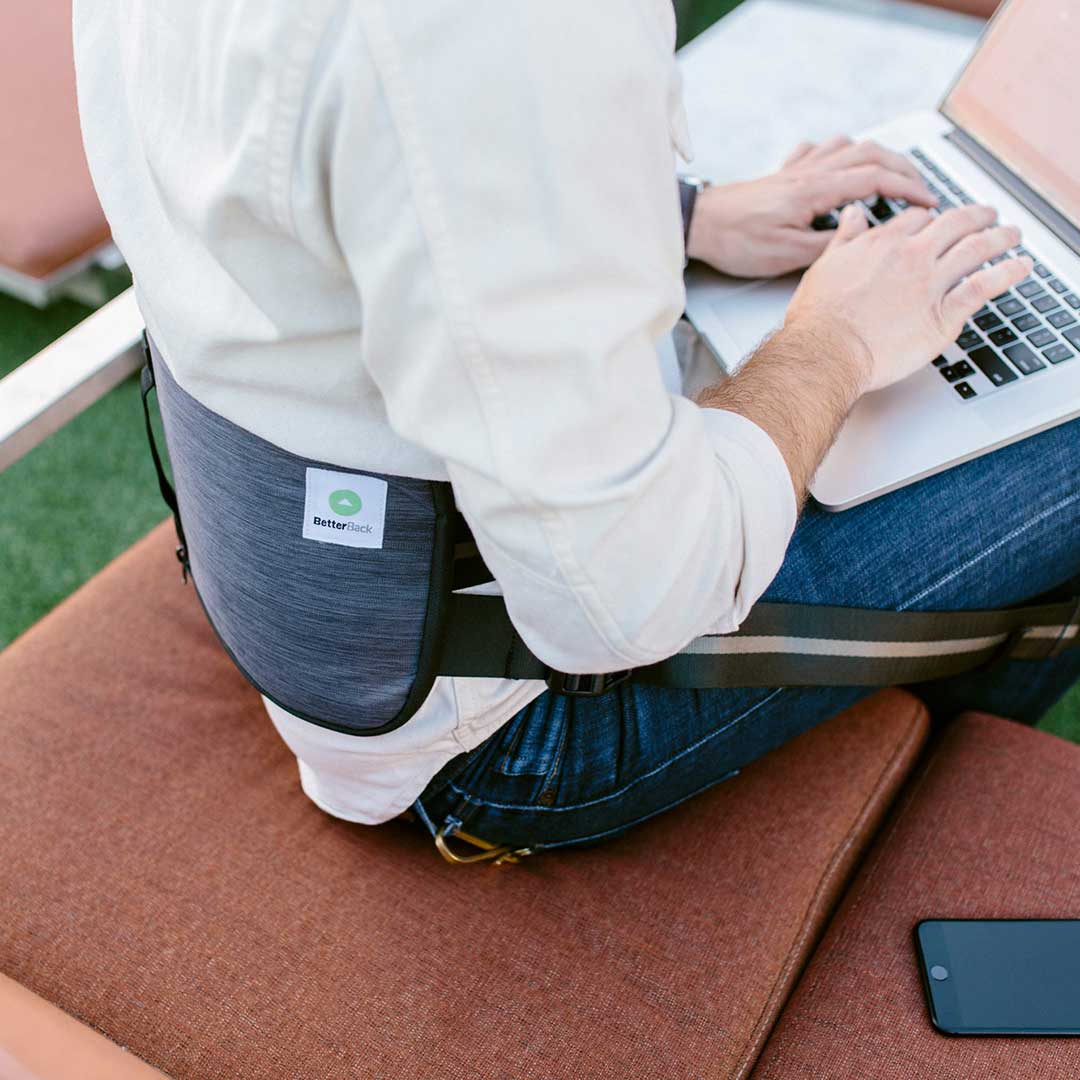 Say Goodbye To Back Pain!
BetterBack does more than provide lumbar support — it stabilizes your pelvis so you can't slump. It also saves you money: instead of buying one ergonomic chair, you can make every single seat (from a chair to a bench to the floor!) ergonomic. We are a community from all over the world on a journey to a better back and would love for you to join us!
Why BetterBack Works — Unlike traditional back supports that only focus on your lumbar spine, BetterBack restores your spine's natural curvature (by stabilizing your pelvis) and provides one-of-a-kind lumbar support.
Instant Support & Relief! — Put on BetterBack, set a timer for 15 minutes, and voila! You'll start to feel the pain in your back melt away like ice on a hot summer's day.
Works Right Out Of The Box — BetterBack is so easy to use, you'll have perfect seated posture in 5 seconds flat (even if it's your first time using it!).
Fits Most Body Sizes — No matter your build, you can easily adjust BetterBack's size to give you a perfectly customized and comfortable fit. (BetterBack Plus goes up to 55″ waist)
Easy To Travel With — Lightweight and portable, BetterBack fits neatly inside any bag. It also doesn't need any batteries or charging, so you can count on it wherever you go!
Makes Every Chair Ergonomic — Don't spend hundreds of dollars on one ergonomic chair—BetterBack will give you the same benefits with EVERY chair you sit in. Wear at your desk, on a plane, watching a game or even while you meditate. Wear it anytime you have to sit!
Affordable — BetterBack costs less than a single doctor's visit, massage or chiropractic adjustment.
30-Day Risk Free Guarantee — If for any reason you're not 100% satisfied with your BetterBack, you can easily return it, hassle-free!